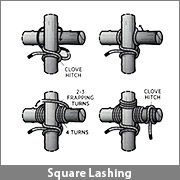 Your home is your castle, but could it withstand an attack by Attila and the Huns, Ragnar and the Vikings, Alexander and the Greeks, Genghis Khan and the Mongols, or Tamerlane and the Tartars? Engineer William Gurstelle poses this fascinating question to modern-day garage warriors, and shows how to build an arsenal of ancient artillery and fortifications aimed at withstanding these invading hordes.
Each chapter introduces new bad actors in the history of warfare, details their conquests, and features weapons and fortifications to defend against them – culminating, by the end of the book, in a fully fortified home.  Clear step-by-step instructions, diagrams, and photographs explain how to build a dozen projects from table-top models of the Cheval-de-frise, Da Vinci's Catapult, and Alexander's Tortoise to the full size working Carpini's Crossbow, Hour-Glass Watchtower, and Palisade Wall. With a strong emphasis on safety, this book also gives tips on troubleshooting, explains the physics behind many of the projects, and shows where to find the best materials.
It's sure to be an indispensable guide for at-home defenders everywhere.